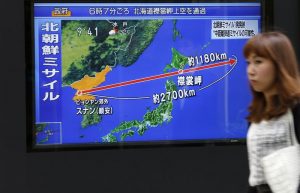 SEOUL, South Korea (AP) — In a first, North Korea on Tuesday fired a midrange ballistic missile designed to carry a nuclear payload that flew over Japan and splashed into the northern Pacific Ocean, officials said. The aggressive missile launch — likely the longest ever from the North — over the territory of a close U.S. ally sends a clear message of defiance as Washington and Seoul conduct war games nearby.
South Korea's Joint Chiefs of Staff said the missile traveled around 2,700 kilometers (1,677 miles) and reached a maximum height of 550 kilometers (341 miles) as it traveled over the northern Japanese island of Hokkaido. The distance and type of missile test seemed designed to show that North Korea can back up a threat to target the U.S. territory of Guam, if it chooses to do so, while also establishing a potentially dangerous precedent that could see future missiles flying over Japan.
Any new test worries Washington and its allies because it presumably puts the North a step closer toward its goal of an arsenal of nuclear missiles that can reliably target the United States. Tuesday's test, however, looks especially aggressive to Washington, Seoul and Tokyo
Another interesting aspect of this launch is that it was the first-ever reported from Sunan, which is home to Pyongyang's international airport. Some outside observers wondered if North Korea had launched a road-mobile missile from an airport runway — something South Korea's military couldn't immediately determine.
The airport's runways could provide the ideal space to launch a road-mobile missile like the Hwasong-12, while also demonstrating that the North can launch its missiles from anywhere, according to Moon Seong Mook, a former South Korean military official and current analyst for the Seoul-based Korea Research Institute for National Strategy.
North Korea will no doubt be watching the world's reaction to see if it can use Tuesday's flight over Japan as a precedent for future launches. Japanese officials made the usual strongly worded condemnations of the launch. There were no immediate tweets from Trump.
"We will do our utmost to protect people's lives," Japanese Prime Minister Shinzo Abe said. "This reckless act of launching a missile that flies over our country is an unprecedented, serious and important threat."
Tokyo said there was no reported damage from the missile, which Japan's NHK TV said separated into three parts. Residents on Hokkaido were warned of a North Korean missile launch by a "J-Alert" on their cellphones, with loud alarms and an email that told people to stay indoors. A radio speaker broadcast an alert saying "missile is passing, missile is passing."
A U.S. congressman visiting Seoul said Washington is now pressuring North Korea to abandon its nuclear ambitions by shutting down the impoverished country's access to hard currency, the lifeblood of its expensive weapons program.
The goal is to offer international banks that do business with Pyongyang a choice between bankruptcy and freezing North Korean accounts, U.S. Rep. Ed Royce, the Republican chairman of the House Foreign Affairs Committee, said in an interview after meeting with South Korea's leaders.
Tuesday's launch comes days after the North fired what was assessed as three short-range ballistic missiles into the sea and a month after its second test of an intercontinental ballistic missile, which analysts say could reach deep into the U.S. mainland when perfected.
South Korea's Foreign Ministry warned that the North will face a strong response from the U.S.-South Korean alliance if what it called nuclear and missile provocations continue. The ministry also urged Pyongyang to accept talks over its nuclear program and acknowledge that abandoning its nuclear ambitions is the only way to guarantee its security and economic development.
In an unusual move, South Korea's military released footage of its own missile tests it says were conducted last week. The videos showed two types of new missiles with ranges of 800 kilometers (497 miles) and 500 kilometers (310 miles) being fired from truck-mounted launchers during three tests conducted on Aug. 24.
South Korea's Agency for Defense Development said the launches represented the last flight test for the longer-range missile before it is operationally deployed. Such missiles, which would be the latest additions to South Korea's Hyumoo family of missiles, are considered key components of the so-called "kill chain" pre-emptive strike capability that the South is pursuing to counter the North's nuclear and missile threat.
South Korea also said its air force conducted a live-fire drill involving four F-15 fighters dropping eight MK-84 bombs that accurately hit targets at a military field near the country's eastern coast. Yoon Young-chan, chief press secretary of South Korean President Moon Jae-in, said the exercise was conducted after Moon directed the military to "display a strong capability to punish" the North if need be.
The North's launch over Japan shouldn't be a total surprise. Earlier this month, when threatening to lob four Hwasong-12s into the waters near Guam, North Korea specifically said they would fly over Japanese territory. North Korea in June also angrily reacted to the launch of a Japanese satellite it said was aimed at spying on the North and said Tokyo was no longer entitled to fault Pyongyang "no matter what it launches or whether that crosses the sky above Japan."
North Korea typically reacts with anger to U.S.-South Korean military drills, which are happening now, often testing weapons and threatening Seoul and Washington in its state-controlled media. But animosity is higher than usual following threats by Trump to unleash "fire and fury" on the North, and Pyongyang's Guam threat.
Kim Dong-yub, a former South Korean military official who is now an analyst at Seoul's Institute for Far Eastern Studies, said the early flight data suggests the North Korean missile was likely a Hwasong-12. Other possibilities, he said, include a midrange Musudan, a missile with a potential 3,500-kilometer (2,180-mile) range that puts much of the Asia-Pacific region within reach, or a Pukguksong-2, a solid-fuel missile that can be fired faster and more secretly than weapons using liquid fuel.
North Korea first fired over Japanese territory in August of 1998 when a multistage rocket that outside experts called "Taepodong-1" flew about 1,500 kilometers (932 miles) before landing in the Pacific Ocean. The North later said it had launched a satellite, something Seoul confirmed years later.
North Korea flew another rocket over Japan again in April 2009 and said that, too, was carrying a satellite. The North claimed success, but the U.S. North American Aerospace Defense Command says no satellite reached orbit. Some parts of a space launch vehicle reportedly flew over Okinawa last year after separating from the rocket.
Pyongyang regularly claims the U.S.-South Korean military exercises are an invasion rehearsal, although analysts say the North's anger is partly because the North must react with its own expensive drills and weapons tests. The allies say the war games are defensive and meant to counter North Korean aggression.
North Korea's U.N. ambassador, Ja Song Nam, wrote recently that the exercises are "provocative and aggressive" at a time when the Korean Peninsula is "like a time bomb."
AP