Shatha Khalil *
On November 4, the second round of US sanctions on countries and importers of Iran's oil will begin, as more economic sanctions against Iran will reduce its oil exports to zero.
US President Donald Trump insists on more sanctions, offset by low oil prices, pressure on OPEC to cut prices, and a number of countries cutting off deals with Iran. Actually, South Korea has stopped importing Iranian oil for more than three months, Europe sought to evade sanctions and continuing to import Iranian oil, while China ignored it and OPEC and its partners refused to increase production.
These sanctions are the strongest and most severe on the Iranian economy, including the following:
– Reinstatement of penalties for port and fleet enterprises, shipbuilding administrations, including the fleet of the Islamic Republic of Iran, the Southern Iran Fleet Line and its subsidiaries.
-Reinstatement of oil sanctions, especially financial transactions with National Iran Oil Company (NIOC), Iran International Oil Company (NICO) National Iran Oil Transport Company (NITC) and the ban on the purchase of oil and petroleum products or petrochemical products from Iran.
-Returning sanctions on the economic transactions of foreign financial institutions with the Central Bank of Iran and some Iranian financial institutions under Article 1245 of the NDAA of the financial year 2012.
-Sanctions related to the Central Bank of Iran's financial services and the Iranian financial institutions listed in the Comprehensive Iran Punishment Act of 2010 (CISADA).
– Sanctions related to the provision of insurance services.
– Sanctions related to the Iranian energy sector.
In addition, on Nov. 5, 2018, the United States will cancel licenses granted to US entities to deal with Iran following the nuclear agreement. The US State Department will repeal some laws passed on lifting sanctions on Iran, and appropriate sanctions will put in place on August 6 or November 4, 2018, as non-Iranians should use these time periods to restrict their activities with Iran, which would be banned at the end of the period. In addition to additional non-nuclear sanctions, the United States will implement a number of laws aimed at a series of subversive activities of Iran, beyond the nuclear program, including Iran's support for terrorism, ballistic missile programs, human rights violations, and destabilization of the security of the region.
Iran's shaky economy:
The Iranian economy is suffering from unemployment, inflation and high poverty. Iran's Labor Minister Ali Rubaie warned earlier this month that when the sanctions came into effect, Iran would witness 1 million unemployed in a few months, the country is in a state of panic and instability when the first round of US sanctions comes into effect.
Rababi added that the US withdrawal from the Iranian nuclear agreement signed in the year 2000 and its attempt to re-impose the first batch of US sanctions, approved by Trump, has made Iran in an embarrassing situation and suffers many economic problems such as unemployment, and slow investments in which the current economic group seems to be unable to provide solutions.
Experts in economy confirm that the concept of "bubble economy" applies to the Iranian economy, which has entered the tunnel of collapse, with indicators showing the fragility of the country's infrastructure, rising inflation, falling exchange rates and high prices of commodities in a very disturbing way , All foreshadow an internal conflict and a major collapse.
The Guardian newspaper reported in an analytical report that Roddy Giuliani, a lawyer for US President Donald Trump, said that his government would continue to impose increasing economic sanctions until the Iranian regime completely collapses, calling it a hard-line regime. "Around the corner" of the imminent final collapse.
Giuliani added that he has knowledge of foreign policy plans. "We are now realistic and can see an end to the regime in Iran," he said. "The mullahs and my Khamenei must go, and they should be replaced by a democratic government stressing that the " Freedom is the right of every member of the Iranian people.
Iranian oil exports:
Iran's oil exports are falling ahead of the second round of US sanctions on November 4, the International Finance Institute said, and Iran's economy is likely to shrink by three percent this year and four percent next year.
The Institute, which represents banks and major financial institutions around the world, said crude oil exports, condensates fell by 800 thousand barrels per day from April to September 2018 , and pointed out that exports of crude oil and condensates amounted to two million and eight hundred thousand barrels per day in April, estimated at 2 million barrels per day in September.
Iranian shipping companies provide all facilities in payment and sale on credit, and payment is not in dollars, but in the euro and the Chinese Yuan, and to work with the system of barter and cash.
In a statement after a meeting of Britain, China, France, Germany, Russia and Iran, the group said it was determined to develop payment mechanisms for continued trade with Iran, although many diplomats doubted it could be achieved.
French President Emmanuel Macaron said that enabling Iran to sell oil is good for peace and for world oil prices.
US Secretary of State Mike Pompeo said the EU's plans to set up a special mechanism to circumvent US sanctions on Iranian oil exports were futile.
Some European diplomats have suggested that the idea of such a mechanism would be to establish a trade-off system similar to that used by the Soviet Union during the Cold War to exchange Iranian oil for European goods without using money.
In the context of the crisis, Iranian Oil Minister Bijen Zanganeh said the oil market is suffering from a shortage of oil supply, and Trump believes he can reduce oil prices by bullying other countries.
Turkey and Italy are the last buyers of Iranian crude outside of China, India and the Middle East, according to official data from Iranian oil tankers, in a new sign that shipments are severely damaged as US sanctions approach.
The data from Revinitiv Ekon, which indicates that Iran exports 1.33 million bpd since the beginning of October to India, China, Turkey and the Middle East, has not been able to show any vessels transporting Iranian oil to Europe.
This is a table showing the largest importers of Iranian oil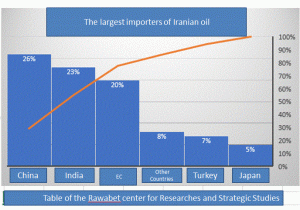 A source in the sector, tracking exports, estimated the shipments at 1.5 million barrels per day, including ships that did not show up on the AES satellite tracking system, including a one-million-ton tanker en route to Italy, it is less than 2.5 million bpd in April at least , before Trump announced in May that the United States would withdraw from the 2015 nuclear agreement with Iran and reinstate sanctions. The figures also show a continued decline from 1.6 million barrels per day listed in September, the expected loss of large quantities of Iranian supplies which will contribute to the rise of the price of the oil noting on October 3, it hits its highest level since late 2014, at $ 86.74 a barrel. Prices have since fallen to $ 81, despite analysts' assurances that a drop in Iranian exports is still continue .
"It's one of the reasons prices are still above $ 80," said Eugene Finberg, an analyst at Commerzbank. "All indications are that buyers worried about US sanctions are going to stop their deals to buy or reduce Iranian oil and that exports are falling more sharply than some had expected in the market.
Certainly, it is difficult to obtain accurate data on Iranian oil exports, tanker schedules are often modified, exports vary from week to week, and the tracking of vessels, despite its easiness compared to the the past due to satellite information, still combines art and science.
Iran's exports in the first week of October reached an average of 1.1 million bpd, according to Revitiv, and less than 1 million bpd, according to another source in the sector.
While the sanctions aim to reduce Iran's oil exports to zero, Iran says that is unlikely to happen.
Iran, which has vowed to block any increase in OPEC supplies against its own, insists it has found new buyers for its oil and that its crude output has fallen only slightly.
For the month of September, Iran told OPEC that its production of crude fell by 50 thousand barrels per day to (3.76) million barrels per day, while the estimates of consulting companies and government agencies, used by the Organization to monitor production, indicate to the largest decline of Iranian production at (3.45) Million barrels per day.
In fact, Iran may not have reduced production yet to be equal to the rate of decline exports, as it appears to be storing more oil on ships, as it did during sanctions imposed until the signing of the nuclear deal in 2015.
And in light of the above, and under the US pressure against Tehran, and the contradictions of regional and international and international pro-anti-Tehran, and under the internal situation of Iran, which is ringing the alarm, and warns of the imminent hunger revolution, and in light of the rapid collapse of the Iranian economy…. In light of all of the above… Can we assert that the mullahs' regime drew its last breath, or at least in its first moments of death?
Economic Studies Unit
Rawabet Center for Research and Strategic Studies