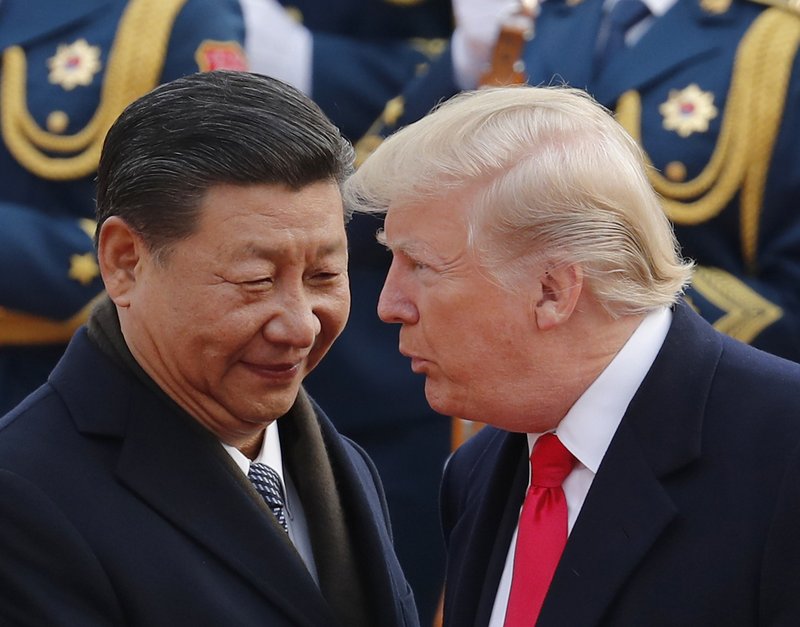 BEIJING (AP) — Following President Donald Trump's visit to Beijing, China said Wednesday that it would send a high-level special envoy to North Korea amid an extended chill in relations between the neighbors over Pyongyang's nuclear weapons and missile programs.
Song Tao, the head of China's ruling Communist Party's International Department, will travel to Pyongyang on Friday to report on outcomes of the party's national congress held last month, the official Xinhua News Agency said.
Xinhua said Song, as president and party leader Xi Jinping's special envoy, would carry out a "visit" in addition to delivering his report, but gave no details about his itinerary or meetings. It also made no mention of Trump's trip to Beijing or the North's weapons programs, although Trump has repeatedly called on Beijing to do more to use its influence to pressure Pyongyang into altering its behavior.
Song would be the first ministerial-level Chinese official to visit North Korea since October 2015, when Politburo Standing Committee member Liu Yunshan met with leader Kim Jong Un. Liu delivered a letter to Kim from Xi expressing hopes for a strong relationship, although the respite in frosty ties proved short-lived. Vice Foreign Minister Liu Zhenmin visited Pyongyang in October of last year.
China's Communist Party and North Korea's ruling Workers' Party have long-standing ties that often supersede formal diplomacy, even while Beijing has long been frustrated with Pyongyang's provocations and unwillingness to reform its economy.
However, Song is not directly connected to China's efforts to convince Pyongyang to cease its nuclear weapons program and return to talks, downplaying the chances for a breakthrough in that highly contentious area.
China is also North Korea's largest trading partner and chief source of food and fuel aid, although it says its influence with Kim's regime is often exaggerated by the U.S. and others. While it is enforcing harsh new U.N. sanctions targeting the North's sources of foreign currency, Beijing has called for steps to renew dialogue.
Beijing is also opposed to measures that could bring down Kim's regime, possibly depriving it of a buffer with South Korea and the almost 30,000 U.S. troops stationed there, and leading to a refugee crisis and chaos along its border with the North.
In Beijing last week, Trump urged Xi to pressure North Korea to give up its nuclear weapons program.
China can fix the problem "easily and quickly," Trump said in remarks to journalists alongside Xi. He urged Xi to "hopefully work on it very hard."
"If he works on it hard, it will happen. There's no doubt about it," Trump said.
While calling the visit significant, a top Chinese expert on North Korea relations downplayed any connection with Trump's statements in Beijing, saying it fit a pattern of traditional exchanges between the two parties following significant events such as national congresses.
"Representatives are dispatched to brief the other side at a chosen time and chosen level. It is a tradition and it is unnecessary to connect it with Trump's visit to China," said Guo Rui, researcher at the Institute for North Korean and South Korean Studies at Jilin University in northeastern China.
However, he said the visit "shows China's willingness to see a continuous development of the friendly relations between the two sides."
"Although the Korean Peninsula situation has been evolving fast with worrisome indications, the two parties are maintaining normal exchanges, and that is of significance for stabilizing the bilateral relations and the peninsular situation," Guo said.
The nature of Song's visit as a party-to-party exchange rather than one between the two governments appears to paint it as a bilateral attempt to strengthen relations, said John Delury, a professor at Seoul's Yonsei University who specializes in Korea and China.
The fact that Song was identified as Xi's special envoy also suggests that Xi is personally making a push to open the channel at a higher level and engage more constructively with Kim, Delury said.
"This is a chance to see if he can open things up," he said. "The relationship has been so frosty, it will be interesting to see if there's some improvement in the bilateral ties."
North Korea staged its sixth nuclear test on Sept. 3, detonating what it claimed was a hydrogen bomb, and last launched a ballistic missile on Sept. 15, firing it over the Japanese island of Hokkaido into the Pacific Ocean.
Since then, there has been a lull in such activity, leading to some hopes in Beijing that Pyongyang might be responding to international pressure and becoming more amenable to talks.
Song's visit to Pyongyang also comes as China and South Korea are repairing their relations, with South Korean President Moon Jae-in scheduled to visit next month for talks with Xi.
Previously warm ties soured last year over Seoul's decision to deploy a sophisticated U.S. missile defense system aimed at guarding against North Korean threats.
Beijing claimed the THAAD system damaged its own security because its radars could observe military movements within northeastern China and retaliated by banning Chinese tour groups from visiting and interfering in the China operations of South Korean companies.
While South Korea resisted China's demands to withdraw the system, Beijing appeared satisfied with a pledge from Seoul not to expand it, among other commitments.
___
AP