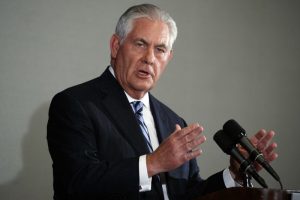 NEW YORK (AP) — President Donald Trump has determined how he wants to approach the Iran nuclear deal, but Secretary of State Rex Tillerson says Trump has not informed him or others in the administration about his decision.
Tillerson says Trump even refused to share his decision with British Prime Minister Theresa May when she asked about it.
The top U.S. diplomat says that while Iran might be meeting its obligations to the letter of the deal, it is violating its spirit.
He says, "One can almost set the countdown clock to Iran resuming its nuclear activities."
Tillerson spoke to reporters after a meeting Wednesday evening of the parties to the nuclear deal, including Iranian Foreign Minister Mohammad Javad Zarif
AP