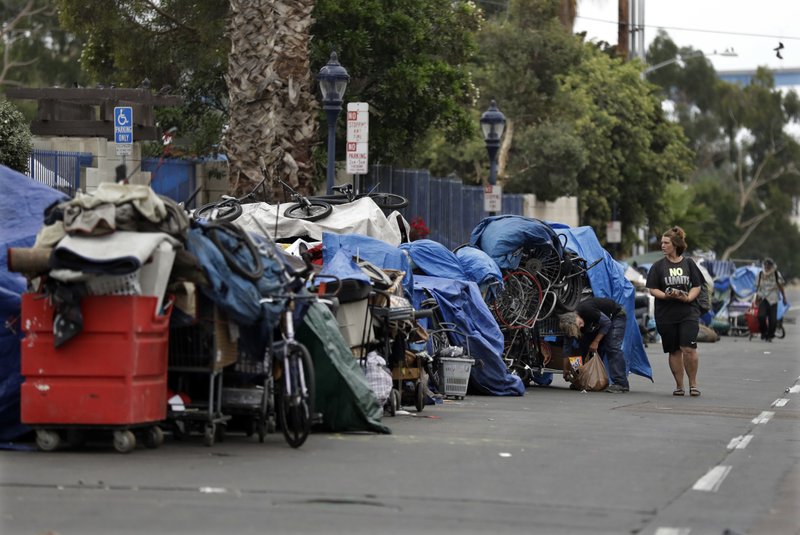 SAN DIEGO (AP) — Christine Wade found a haven in the tent she shared with six children, pitched in an asphalt parking lot.
It was, at least, far better than their previous home in the city, a shelter where rats ate through the family's bags of clothes and chewed on 2-year-old Jaymason's stroller. Roughly 50 of the encampment's 200 residents were children, so Wade's kids had plenty of playmates.
"It's peaceful here," Wade, 31, who is eight months pregnant, said in an October interview. "There's coffee first thing in the morning. We can hang out here in the daytime. I mean what more could you ask for?"
A tent, of course, is not a home. But for these San Diegans, it is a blessing.
Like other major cities all along the West Coast, San Diego is struggling with a homeless crisis. In a place that bills itself as "America's Finest City," renowned for its sunny weather, surfing and fish tacos, spiraling real estate values have contributed to spiraling homelessness, leaving more than 3,200 people living on the streets or in their cars.
Most alarmingly, the explosive growth in the number of people living outdoors has contributed to a hepatitis A epidemic that has killed 20 people in the past year — the worst U.S. outbreak of its kind in 20 years. Deplorable sanitary conditions help spread the liver-damaging virus that lives in feces.
"Some of the most vulnerable are dying in the streets in one of the most desirable and livable regions in America," a San Diego County grand jury wrote in its report in June — reiterating warnings it gave the city repeatedly over the past decade to better address homelessness.
San Diego has struggled to do that. Two years ago, Mayor Kevin Faulconer, a moderate Republican, closed a downtown tent shelter that operated for 29 years during winter months. He promised a "game changer" — a new, permanent facility with services to funnel people to housing.
But it wasn't enough.
The result? Legions of Californians without shelter. A spreading contagion. Endless political disputes over what can and should be done — and mounting bills for taxpayers. Struggling schools and other institutions. And an extraordinary challenge to the city's sunny identity that threatens its key tourism industry.
For now, San Diego again is turning to tents. The campground where the Wades lived was only temporary; this month, officials are opening three industrial-sized tents that will house a total of 700 people.
In October, as the hepatitis death toll climbed and the city declared a homeless emergency, Faulconer and the nonprofit Alpha Project opened the Balboa Park campground where the Wades found shelter. The city installed public washing stations, opened 24-hour restrooms and scrubbed streets with a bleach solution.
Police also cracked down, issuing hundreds of citations, largely for illegal lodging. Within weeks, the nearly 400 tents and tarps downtown were gone. Those who work with the homeless say they simply scattered.
"It could be like a campfire when all the embers are spread out. It either dies out or it catches other areas and makes a bigger fire than we originally had," said Dr. Jeffrey Norris, the medical director of Father Joe's Villages, which runs a clinic that treats 2,800 homeless annually.
The number of encampments hidden in the brush and bamboo along the banks of the San Diego River doubled.
"It's being used as a toilet," said Zapf, whose council district includes the river, bays and beaches.
The San Diego River Park Foundation's mission is to preserve the river, a green ribbon that starts from snowmelt in the mountains east of San Diego and builds as it snakes through a valley of cottonwood groves and continues under freeway overpasses by shopping centers.
The foundation spent $115,000 removing 250,000 pounds of trash left by the homeless camps this year. Litter is carried by the river, which feeds into the Pacific at a popular dog beach.
Director Rob Hutsel said he gets asked by potential donors about the foundation's plans to create a 52-mile-long river park and trail system: "What about the homeless? Don't build a park. It'll just bring in more."
"Gosh, parks are good," he said. "There shouldn't be any thought about building a park. That's so unfortunate."
___
AP