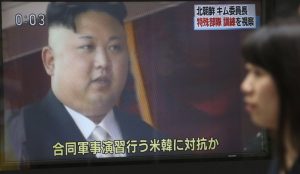 SEOUL, South Korea (AP) — North Korea fired several rockets into the sea Saturday in the continuation of its rapid nuclear and missile expansion, prompting South Korea to press ahead with military drills involving U.S. troops that have angered Pyongyang.
The U.S. Pacific Command revised its initial assessment that the first and third short-range missiles failed during flight to say they flew about 250 kilometers (155 miles). It said that the second missile appears to have blown up immediately and that none posed threat to the U.S. territory of Guam, which the North had previously warned it would fire missiles toward.
South Korea's presidential office and military said North Korea fired "several" projectiles in what was presumed as a test of its 300-millimeter rocket artillery system.
Kim Dong-yub, a former South Korean military official who is now an analyst at Seoul's Institute for Far Eastern Studies, said that South Korean assessment doesn't necessarily contradict the U.S. evaluation that the launches involved ballistic missiles. North Korea's large-sized artillery rockets blur the boundaries between artillery systems and ballistic missiles because they create their own thrust and are guided during delivery, Kim said.
The presidential office in Seoul said the U.S. and South Korean militaries will proceed with their ongoing war games "even more thoroughly" in response to the launch. They are the first known missile firings since July, when the North successfully flight tested a pair of intercontinental ballistic missiles that analysts say could reach deep into the U.S. mainland when perfected.
The White House said that President Donald Trump — who has warned that he would unleash "fire and fury" if the North continued its threats — was briefed on the latest North Korean activity and "we are monitoring the situation."
The rival Koreas recently saw their always testy relationship get worse after Trump traded warlike threats. Saturday's launch comes during an annual joint military exercise between the United States and South Korea that the North condemns as an invasion rehearsal, and weeks after Pyongyang threatened to lob missiles toward Guam.
North Korea had walked back from the threat to lob missiles toward Guam, but there had been concerns that hostility will flare up again during the Ulchi-Freedom Guardian drills between the allies that run through Aug. 31.
However, some experts say North Korea is now mainly focused on the bigger picture of testing its bargaining power against the United States with its new long-range missiles and likely has no interest in letting things get too tense during the drills. They say the North may limit its reactions to low-level provocations like artillery and short-range missile launches.
While the projectile that supposedly blew up immediately after launch was clearly a failure, Kim, the analyst, said the North with the other missiles could have been experimenting with developmental technologies or deliberately detonated the warheads at certain heights and locations. If the South Korean assessments are correct, the North might have conducted tests to expand the range of its 300-millimeter multiple rocket launchers, which are believed to have a radius of up to 200 kilometers (124 miles), Kim said.
North Korea's state media earlier Saturday said that leader Kim Jong Un inspected a special operation forces training of the country's army that simulated attacks on South Korean islands along the countries' western sea border in what appeared to be in response to the ongoing U.S.-South Korea war games.
Kim reportedly told his troops that they "should think of mercilessly wiping out the enemy with arms only and occupying Seoul at one go and the southern half of Korea."
The Korean Central News Agency said that the "target striking contest" involved war planes, multiple-rocket launchers and self-propelled guns that attacked targets meant to represent South Korea's Baengnyeong and Yeonpyeong islands before special operation combatants "landed by surprise" on rubber boats.
The border islands have occasionally seen military skirmishes between the rivals, including a North Korean artillery barrage on Yeonpyeong in 2010 that left two South Korean marines and two civilians dead.
In response to North Korea's expanding nuclear weapons program, South Korea has been moving to strengthen its own capabilities, planning talks with the United States on raising the warhead limits on its missiles and taking steps to place additional launchers to a U.S. anti-missile defense system in the country's southeast.
South Korea has also been testing new missiles of its own, including the 800-kilometer (497 mile)-range Hyunmoo-2. Although the missile has not been operationally deployed yet, it is considered a key component to the so-called "kill chain" pre-emptive strike capability the South is pursuing to cope with the North's growing nuclear and missile threat.
AP