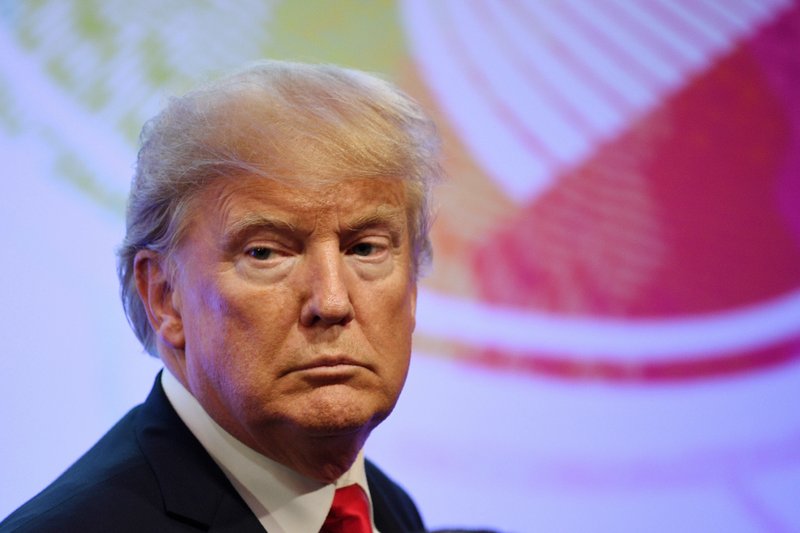 MANILA, Philippines (AP) — The Latest on President Donald Trump's visit to Asia (all times local):
2:55 p.m.
President Donald Trump says his trip to Asia has been "tremendously successful."
Trade was a major theme and Trump is reiterating Tuesday before heading back to the U.S. that he wants trade that is "fair" and "reciprocal."
Trump says he made a lot of friends during the nearly two-week trip to five countries. He's also taking credit for improving relations with the Philippines. Trump said Monday that he and Philippine President Rodrigo Duterte have a great relationship.
Trump says he'll have more to say about trade at the White House later this week.
President Donald Trump is tweeting that after his lengthy trip to Asia "all Countries dealing with us on TRADE know that the rules have changed."
Trump says the U.S. needs to be "treated fairly and in a reciprocal fashion. The massive TRADE deficits must go down quickly!"
The president says on the final day of his trip to Asia that it "Will lead to FAIR TRADE DEALS, unlike the horror shows from past Administrations." He says during the tour, he also "Made many good friends!"
During the trip, Trump has noted his opposition to multilateral trade agreements, including the Trans-Pacific Partnership.
Trump will head for the U.S. later Tuesday.
President Donald Trump is spending the final day of his Asia trip attending the East Asia Summit in the Philippines.
Trump joined fellow heads of state in Manila on Tuesday for a luncheon, where they are to discuss regional issues.
He'll also pose for a traditional group photo and participate in another group discussion.
Trump's original schedule had him skipping the summit. But he extended the trip after he was criticized for planning to miss the events.
Trump heads for the U.S. later Tuesday. He'll stop in Hawaii so Air Force One can refuel before continuing to Washington.
The U.S. and Philippine governments say President Donald Trump and Philippine President Rodrigo Duterte agreed to "continue mainstreaming the human rights agenda" in their respective countries during their meeting Monday in Manila.
A joint statement says the two leaders "underscored that human rights and the dignity of human life are essential."
The White House said earlier that human rights had come up "briefly" in the context of the Philippines' fight against illegal drugs. Press Secretary Sarah Huckabee Sanders didn't say if Trump had been critical of Duterte's violent war on the illegal drug trade.
A spokesman for Duterte, however, said "there was no mention of human rights" and "no mention of extralegal killings." He said there had been a "rather lengthy discussion of the Philippine war on drugs."
Philippine President Rodrigo Duterte is adding entertainer to his role as host of the ASEAN summit, singing a duet on behalf of President Donald Trump.
Duterte sang a duet of the song "Ikaw" with singer Pilita Corrales during Sunday night's gala dinner at the summit in Manila.
The Philippine leader told the audience he had done so "upon the orders of the Commander-in-Chief of the United States," drawing laughter from the crowd and a smile from Trump.
Trump was among 20 foreign leaders in the Philippines for the summit, his first visit to the country as president.
President Donald Trump is holding friendly talks with Prime Minister Narendra Modi of India as he nears the end of his lengthy Asia trip.
Trump says Modi has "become a friend of ours" and praising the Indian leader during their one-on-one meeting. Modi says relations between the U.S. and India are "growing very rapidly" and "getting deeper and more comprehensive."
Modi says Trump "has expressed a very high opinion of India" in his travels.
Trump was expected to attend a dinner with Australian Prime Minister Malcolm Turnbull at the end of the day.
President Donald Trump is wrapping up his extensive trip to Asia with an international summit and one-on-one meetings with international partners, including his Philippine host who is overseeing a bloody drug war.
Trump was meeting Monday with Indian Prime Minister Narendra Modi and dining with Australian Prime Minister Malcolm Turnbull ahead of the East Asia summit in Manila.
The president met with Philippine President Rodrigo Duterte (doo-TEHR'-tay), who has been condemned by human rights groups for his crackdown on drug dealers and users. The White House says Trump briefly raised human rights issues with Duterte.
Trump is teasing a "major statement" on trade and North Korea in Washington on Wednesday when he returns. The White House has suggested the president may designate North Korea as a state sponsor of terrorism.
AP