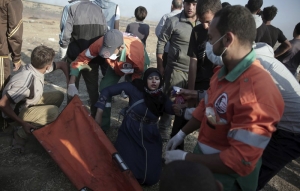 GAZA CITY, Gaza Strip (AP) — Patients with gunshot wounds filled wards and hallways in Gaza's under-equipped and overwhelmed main hospital Tuesday, with dozens still waiting in line for surgery a day after Israeli soldiers shot and killed 59 Palestinians and wounded hundreds in mass protests on the Gaza border.
The high casualty toll triggered a diplomatic backlash against Israel and new charges of excessive use of force against unarmed protesters. The U.N. Security Council began its session Tuesday with a moment of silence for the dead, and the U.N.'s special Mideast envoy said there was "no justification for the killing."
Turkey expelled Israel's ambassador, and several European countries called for an international investigation.
Israel said it has the right to protect its border and nearby communities, accusing Gaza's ruling militant group Hamas of carrying out several attacks under the guise of the protests. The U.S. ambassador to the U.N., Nikki Haley, came to Israel's defense, saying no member "would act with more restraint than Israel has."
Monday's border confrontation was the culmination of a weeks-long protest campaign to break a border blockade that Israel and Egypt imposed after a Hamas took over Gaza by force in 2007. The protests were led by Hamas, but fueled by the growing despair among Gaza's 2 million people who face worsening poverty, unemployment, 22-hour-a-day power cuts and sweeping bans on travel and trade.
The protests were also driven by anger over the relocation Monday of the U.S. Embassy in Israel from Tel Aviv to contested Jerusalem. Palestinians seek Israeli-annexed east Jerusalem as a future capital.
Even before the latest round of bloodshed, Gaza's health system of 13 public hospitals and 14 clinics run by NGOs had buckled under persistent blockade-linked shortages of medicines and surgical supplies. At Shifa Hospital in Gaza City, the main health facility in the strip, these woes were magnified this week.
Anticipating a major influx of casualties ahead of Monday's mass march, Shifa had set up an outdoor triage station under a green and blue tarp in the hospital courtyard, setting up 30 beds and stretchers there.
Throughout the day Monday, Shifa received about 500 injured people, more than 90 percent with gunshot wounds, said hospital director Ayman Sahbani. Of those, 192 needed surgery, including 120 who needed orthopedic surgery, he said
By mid-afternoon Tuesday, overwhelmed surgeons working in 12 operating theaters had only performed 40 orthopedic operations, with 80 others still waiting their turn.
In the orthopedics department, nerves were frayed Tuesday as relatives worried about wounded family members amid fears their conditions might deteriorate.
In one room, Ibrahim Ruhmi rested on a bed with bandages on both legs. He had been shot in the right leg, while shrapnel hit his left leg. Outside the room his mother was crying on a chair in the hallway, consoled by his 28-year-old sister, Faten.
Suddenly, the young woman started shouting at nurses in a burst of frustration.
"His leg will rot," she yelled. "What are you waiting for? Do you wait for it to rot so you can amputate it?"
A Hamas policeman, who was stationed as a security guard on the ward, tried to calm her down, to no avail.
"If you are unable to treat them, why are you letting them go to the protests," she said of her brother and the others who were wounded by Israeli snipers in the dangerous area near the border fence.
Nickolay Mladenov, the special U.N. envoy to the region, told the Security Council on Tuesday that hospitals in Gaza were "reporting an unfolding crisis of essential medical supplies, drugs and equipment needed to treat the injured."
He said a U.N. official who visited Gaza, "witnessed first-hand patients being brought in on stretchers and left in the hospital's courtyard, which was being used as a triage area."
"There is no justification for the killing, there is no excuse," Mladenov said, adding that Israel had a responsibility to calibrate its use of force. At the same time, he said, "messages by Hamas indicate the intention to use mass protests to infiltrate into Israel and attack Israelis."
On Monday, Israeli forces shot and killed 59 Palestinians and wounded more than 1,300, making it the deadliest single day in Gaza since a 2014 cross-border war between Israel and Hamas. Two more Palestinians were shot dead in scattered border protests Tuesday, bring the total since late March to more than 100, the Health Ministry said.
Israel's military said 14 of those killed Monday were involved in planting explosives or firing on Israeli soldiers.
The diplomatic backlash against Israel was swift following the dramatic scenes from the Gaza border of frantic protesters carrying the wounded to ambulances in clouds of putrid black smoke from burning tires and flag-waving women in robes and headscarves defiantly facing Israeli soldiers in the distance.
Turkey expelled Israel's ambassador, and Israel retaliated in kind. Israeli Prime Minister Benjamin Netanyahu accused Turkey's president of hypocrisy, saying that a "man whose hands are drenched in the blood of countless Kurdish civilians in Turkey and Syria is the last one who can preach to us about military ethics."
Ireland and Belgium summoned the Israeli ambassadors to their foreign ministries for questioning about the Gaza violence, and the two nations, along with Germany, called for an investigation. China called on Israel to show restraint.
In Brussels, Prime Minister Charles Michel called the Israeli actions "unacceptable violence" and said there was a "clear lack of proportionality." Michel said the violence and killings would be moved onto the calendar of the European Union summit in Sofia on Wednesday and Thursday.
German spokesman Steffen Seibert said the violence "concerns us greatly," but also accused Hamas of cynically escalating the unrest.
South African Nobel Peace Prize winner Archbishop Desmond Tutu said he was "deeply distressed and broken-hearted by the massacre perpetrated" by Israel.
Also Tuesday, Palestinian President Mahmoud Abbas ordered his envoy to Washington to return to the West Bank in a show of protest against the U.S. Embassy move to contested Jerusalem.
Meanwhile, there were no signs Tuesday that Hamas had made a breakthrough in shaking off the blockade.
Hamas has said protests would continue weekly, but it was not clear if it would be able to maintain momentum during the Muslim fasting month of Ramadan, which begins this week.
One leading organizer said the next mass march would be held June 5, to mark the anniversary of the 1967 Mideast war in which Israel captured Gaza, the West Bank and east Jerusalem.
__
AP