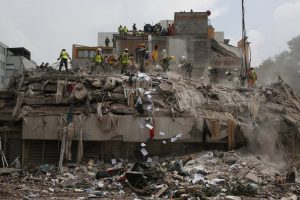 MEXICO CITY (AP) — Mexican government officials are still tallying up the economic losses of the magnitude 7.1 earthquake that caused widespread damage in the capital, but for the manager of a downtown restaurant it is already all too clear.
Sitting in the entrance of his Guapa Papa restaurant Monday surrounded in caution tape, Antonio Luna said: "This is a bust. It's already closed due to structural damage to the building."
He had to let go the three dozen employees at the 1950s-themed restaurant and is just trying to salvage whatever furniture and equipment wasn't damaged.
"In the end the company let everyone go because it couldn't continue having expenses," Luna said.
Moody's Investors Service said in a report Monday that the Sept. 19 earthquake that has killed at least 326 people in the capital and nearby states "has the potential to be one of Mexico's costliest natural catastrophes."
Alfredo Coutino, Latin America director for Moody's Analytics, said they were still collecting data on losses, but a preliminary estimate was that the earthquake could knock between 0.1 percent and 0.3 percent off Mexico's gross domestic product in the third and fourth quarters.
For the full year, the impact on gross domestic product should be about 0.1 percent. "The impact on the year's growth will be small, particularly considering that the reconstruction work will compensate for some of the total loss in activity during the fourth quarter," Coutino said.
Money is expected to pour into the economy as Mexico City and the federal government tap their disaster funds. As of June, the city's disaster fund stood at 9.4 billion pesos (more than $500 million), making it slightly larger than the national fund, according to a Moody's Investors Services report.
Of course, the national fund also has to deal with recovery from the even stronger Sept. 7 quake that has been blamed for nearly 100 deaths, mostly in the southern states of Oaxaca and Chiapas.
There will be months of work ahead from demolition to repairs and reconstruction.
Mexico City Mayor Miguel Angel Mancera said that 360 "red level" buildings would either have to be demolished or receive major structural reinforcement. An additional 1,136 are reparable, and 8,030 buildings inspected so far were found to be habitable.
At least 38 buildings, including apartments and office buildings, collapsed during the earthquake.
Mexico's education ministry also has 1.8 million pesos to spend on school repairs. In Mexico City alone, only 676 of the city's 9,000 schools had been inspected and cleared to resume classes, Education Secretary Aurelio Nuno said Monday.
AIR Worldwide, a Boston-based catastrophe modeling consultant, provided a wide range for industry-insured losses, but noted they would be only a small part of the total economic losses. It put the insured losses at between 13 billion pesos ($725 million) and 36.7 billion pesos ($2 billion).
A graceful traffic roundabout encircled by restaurants, cafes and shops is now a sprawling expanse of medical tents, piles of food and other relief supplies, and stacks of building materials. While relief work went on outside Monday, men were busily wrapping furniture in foam and plastic inside the Antiguo Arte Europeo store.
Stone panels on the building's facade appeared cracked or were altogether missing. Saleswoman Luisa Zuniga said the owners were waiting for civil defense inspectors to certify there was no structural damage to the building before reopening to the public.
Meanwhile, they were moving furniture that could still be sold to their other branches.
"Then we'll see how long it takes to fix everything," she said. "It is important to get back to work."
Edgar Novoa, a fitness trainer, went back to his job Monday after working as a volunteer following the earthquake. Around midday, he stopped his bicycle at a cleared foundation where a building of several stories had stood near his home.
He knelt and prayed while others left flowers and candles at the site.
___
AP