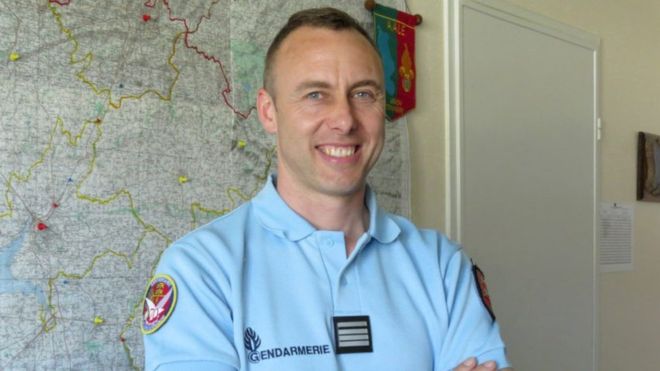 A national memorial service is due to take place in honour of the French police officer who died saving the lives of hostages in a supermarket siege by an Islamist gunman.
Lt-Col Arnaud Beltrame, 44, was killed after he traded places with one of the captives following a shooting spree in southern France on 23 March.
His coffin will be taken through Paris ahead of the service at Les Invalides.
President Emmanuel Macron will lead the ceremony.
The French leader will deliver a eulogy in front of Col Beltrame's friends, family and colleagues as well as members of the public gathered to pay their respects.
On Saturday, he said the officer "fell as a hero" after showing "exceptional courage and selflessness" and deserved "the respect and admiration of the whole nation".
France lauds hero policeman
Trèbes memorial Mass for victims
A minute's silence will also be held and Col Beltrame will be posthumously awarded the country's highest accolade, the Legion d'honneur.
His coffin will then travel back to Carcassone for the funeral.
Col Beltrame was a highly-regarded member of the Gendarmerie Nationale and was described by Mr Macron as someone who "fought until the end and never gave up".
"He gave his life for strangers. He must have known that he didn't really have a chance. If that doesn't make him a hero, I don't know what would," his brother Cedric told a French radio station on Saturday.
Col Beltrame's actions helped bring an end to the siege that left three people dead.
The gunman, 25-year-old Redouane Lakdim, had been on an extremist watch list and was known to authorities as a petty criminal, but intelligence services had determined he did not pose a threat. He was shot dead by police.
Sixteen people were injured, two seriously, in what was the worst jihadist attack under Mr Macron's presidency.
Lakdim was said to have demanded the release of Salah Abdeslam, the most important surviving suspect in the 13 November 2015 attacks in Paris, which killed 130 people.
The attacker's girlfriend, who has not been named, is reportedly a convert to Islam who has been known to security services for at least a year.
On Tuesday, she was placed under formal investigation accused of "associating with terrorists preparing attacks" and remains in police custody.
One other person, a 17-year-old friend of the gunman, was released on Monday after being questioned.
BBC